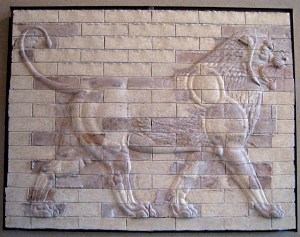 It's often difficult to come up with names for characters. I've seen enough variations on Tolkein names to last me a lifetime, not to mention those based on movie characters and other SF/Fantasy series. But where can you go to find a name that's different, but not overly so? How about from another culture, historical or otherwise?
Beyond 'Fred' is an occasional series that provides lists of names from real-world cultures, both past and present. In other posts, I've covered everything from Italian to Ancient Egyptian. This time, we're covering Persian names, ancient and newer.
An important note: I'm listing names that I think sound cool for rpg game purposes. I'm not worrying about historical accuracy. If you're looking for a name for historical re-enactment, please check out my list of sources at the end of this post. I also don't usually cover name meanings, but again, most of my sources list those. Finally, I tend to stay away from names that are currently in common usage. I figure if you were interested in those, you wouldn't be looking at this list.

[Photo courtesy of hsivonen via Flickr Creative Commons]
Ancient Persian Names
Male
Aêtava
Airyu
Bêndva
Byarshan
Chamrav
Dahâka
Drâdha
Datis
Erezavant
Erezrâspa
Frâchithra
Frânya
Gaevani
Gaomant
Hanghaurvah
Hvova
Isvant
Jannara
Jishti
Kaeva
Karesna
Mathravaka
Mazdayasna
Nanarasti
Neremyazdana
Paeshata
Parshinta
Ravant
Sadhanah
Sâma
Stivant
Taurvati
Tura
Usan
Uxshan
Vâgerezan
Varâza
Vyâtana
Xexes
Xshtavay
Yima
Zairita
Zavan
Female
Ahoo
Amytis
Atosa
Banafsheh
Dughdhô-Vâ
Eredat-Fedhrî
Franghâd
Freni
Ghazal
Humayâ
Hutaosâ
Hvôv
Jagkrut
Kanukâ
Khoshfarberan
Lila
Narges
Narpestan
Paêsanghanû
Pouruchista
Sarvenaz
Thriti
Tûshnâmatay
Urûdhayant
Ushtavaitî
Uxshentî
Vadhut
Vanghu-Fedhrî
Zairichi
Zeheratzade
Newer Persian Names (19th century)
Male
Abadi
Adarvan
ANOSH
Bahadur
Beramji
Burzin
Chaxshnush
Cirrus
Dadar
Delir
Dorabji
Edalji
Erach
Erachsha
Fardunji
Firdous
Freortis
Gashtaham
Goberu
Govad
Hardar
Hirji
Hutan
Isatvastra
Ishvat
Izadyar
Jahandar
Javidan
Jehangir
Kai
Kavas
Kurush
Mahdat
Mervanji
Mohor
Nadarsha
Nevazar
Nima
Nush
Omid
Orvadasp
Palash
Pishkar
Puladvand
Raham
Rashna
Rushad
Sahi
Shahen
Surin
Tahmtan
Temulji
Tizuarshti
Ukarji
Ushah
Ushedarmah
Valash
Varshasb
Vaspar
Wehzan
Yadgar
Yazad
Yima
Zal
Zand
Zirak
Zurvan
Female
Abanhir
Aimai
Arzu
Avabai
Bahar
Banubai
Behruz
Chaman
Cheherazad
Deldar
Dinaz
Dinbanu
Farida
Franak
Friyana
Gohar
Gulbai
Gilshan
Homa
Hormazbanu
Hutoxi
Iranbanu
Irandokht
Jahanaray
Jarbai
Javaneh
Kaniz
Khubrui
Khushnam
Lalagul
Laleh
Lilya
Mahzarin
Meherbai
Morvarid
Narenj
Nezhat
Nilufer
Omid
Oranous
Orkideh
Parendi
Parvin
Puyendeh
Rambanu
Roshni
Ruhae
Samannaz
Shirin
Sudabeh
Tehmina
Thrity
Tishtar
Ushtavaity
Vahbiz
Vira
Virbanu
Yasmin
Yazdin
Yazdindokht
Zarin
Zer
Zoish
Sources
Other 'Beyond Fred' Posts