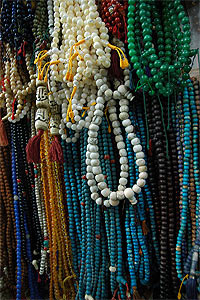 Many games have a religious aspect or deal with religious themes. Fantasy game, in particular often include pantheons of gods for the PC to pick from. But unless the PC is cleric or paladin, his religious life ends up being nothing more than minor roleplaying color, something the PC does when he remembers.
For GMs (and players) who want to have religion play a more active role in the lives of all PCs, here's a way to make religion have a bigger impact on the game: give the characters a chance of divine intervention (often abbreviated DI). Some games have this built into their systems, the main one coming to mind is In Nomine, where a roll of 111 (on 3 6-sided dice) means god smiles favorably on you, while 666 means you've attracted attention from the other direction…
Now these interventions don't have be huge deus ex machina plot devices. Even minor little "miracles" can make a difference. Perhaps the PCs luck on a useful map of the island they needed to go to or a spell goes off with particularly great results or the crowd they're talking to turns out to be especially receptive to their message…you get the picture. That's not to say the PCs couldn't be favored with a grand miracle — it all depends on what fits your game. If gods walk upon the earth or regularly take an active part in mortal affairs, they're more likely to grant an impressive "miracle" than gods who are rarely seen or work exclusively through their followers.
Mechanics-wise, I'd have players roll for a chance of DI for their characters. It should be an extremely small chance, say 1-5%. I'd also say that players would only get to make a DI roll if they've been playing their characters very devoutly before that point. And even then, only when such a role would really matter. How and when player could roll would be up to you, as the GM. If you want the gods to take a more active hand, then you could allow players to roll whenever they wanted to; on the other hand, if you want them to be more "hands-off", players could only roll under life-or-death circumstances (as defined by you).
The nice thing about using a percentile roll, is that you can make it a "sliding scale"–the more devout a character is, the more chance she has of getting a DI. You could even add a chance for an enemy of the PC's god could take notice and decide to get back at the deity by messing with his followers. Say that a roll of 98-00 on percentile dice brings divine favor, while a roll of 01-03 brings the attention of the "opposite side".
Note that this "opposite side" doesn't have to be demonic or infernal; it could simply be a rival of the PC's god. For example, in the Greek pantheon Ares and Athene seemed to have some "sibling rivalry" going on. In the case of a "bad DI", say a PC, a devout follower of Athene is involved with important peace treaty talks that are crucial to the well-being of her kingdom. The kingdom has been at war with a rival for many years, but has finally become open to peace negotiations. Now the PC's player, knowing how important these talks are, gets permission from her GM to try for a DI and rolls a 01. The GM rules that Ares, who desires the war to continue, sees an opportunity to mess with his sister and causes the other negotiating party to mis-hear our PC's greeting as an serious insult, making negotiations start off on a bad foot. Or he could be so incensed that he calls for an immediate attack on the player's forces.
By making your players get GM approval to try for a DI, you have a way to limit the power level of your game. No player would automatically have a "right" to roll for one, even if he perceives it as a life-or-death situation. This would help keep players from becoming dependent on divinities to get them out of trouble.
Next time, I'll make a list of possible DI results.
[Image courtesy of wonderlane via Flickr Creative Commons]
Articles Zemanta thinks may be related