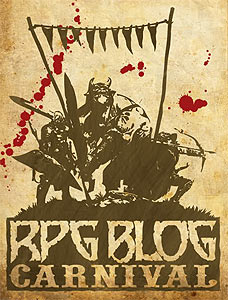 This month's blog carnival topic is worldbuilding. How do you get the worlds you use for your game? Do you create your own or use a published world? If you create your own, where did you start? What do you like best about building your own settings? What suggestions and resources do you have for teaching others how to build worlds of the their own? What are the pros and cons of building your own world? Where do you get the inspiration for your worlds.
It's a broad topic, I know. I'd like to stick to the whys and wherefores of building worlds, rather than details of the worlds themselves. Instead of telling us about your world, tell us how you created it and why, as well as sharing any tips you may have for others who'd like to build their own game world, but don't know where to start.
I'm looking forward to seeing your posts; just put the URL of your post in the comments section below and at the end of the month, I'll do a wrap-up post listing everyone's contributions.