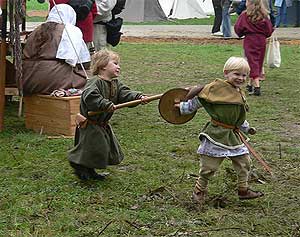 Finding a good name is sometimes the hardest part of designing an NPC. You want something more exotic than "Fred the Fighter", but "Frewxyque the Grand Thunder Duke" becomes too hard to say with a straight face after the first first time.  Baby name books can help, but some of the best names come from real-world sources. Beyond 'Fred' is a series that lists names from various sources broken down by region and/or time period.
We're doing Anglo-Saxon names this time. Some of these names are still in use, but others are as unusual as any gamer-made names. As usual, I've separated them out into male and female names.
Name Structure
Historically, Anglo-Saxons had no surnames as we would think of them. Sometimes, a person (usually aristrocracy) would be identified by a trait or play on words  (Aethylred the Unready, for example) or by a connection to a famous ancestor. If your game setting requires a character to have more than one name, you can always use a place name ("of Meadowbrook"), a profession name ("Smith" or "the Baker"), or "son/daughter of" and a parent's name ("Oswynson").
Note: many Anglo-Saxon names use the letter "eth" (Ð, ð). Since I'm not concerned with historical accuracy here, I've substituted "th" for any eth in the names below.
(Photo courtesy of Flickr, ©Snake3yes 2006)
Male Names
Acwellen
Aethelred
Aethelwulf
Aheawan
Badanoth
Baldred
Beornric
Caedmon
Cælin
Cenhelm
Ceolwulf
Cuthen
Delwyn
Denewulf
Eadfrid
Eadric
Eanlac
Elwyn
Fremund
Frithulaf
Godfrith
Grimbald
Guthred
Hardred
Hereric
Horik
Horsa
Idmaer
Ingwulf
Irminric
Leofric
Liudolf
Merewald
Morcar
Ordmaer
Osred
Oswyn
Raedfrid
Rægenhere
Reduald
Romund
Saeward
Selred
Sigeric
Sighere
Stithwulf
Swithun
Theodgar
Thrydwulf
Thunor
Trumwin
Turec
Waldere
Wihtlac
Yric
Wulfhere
Female Names
Aerlene
Aethelthryth
Alduulf
Alodia
Anlienisse
Baldeth
Beadohild
Bregusuid
Burwena
Ceolwynn
Cynethryth
Cynwise
Domneva
Eadwynn
Eanfled
Eanwin
Eoforwine
Frigyth
Godwyna
Golderon
Hendina
Hild (or Hilda)
Hrotsvitha
Mildgyth
Modthryth
Oslafa
Osthryd
Rimilda
Roswitha
Saewynn
Somerild
Sunngifu
Tonild
Tortgith
Turgiua
Wenyld
Winfrith
Wulfrun
Wulfwynn
Wynflead
Sources
Other "Beyond Fred" Posts