Finding a good name is sometimes the hardest part of designing an NPC. You want something more exotic than "Fred the Fighter", but "Frewxyque the Grand Thunder Duke" becomes too hard to say with a straight face after the first first time.  Baby name books can help, but some of the best names come from real-world sources. Beyond 'Fred' is a series that lists names from various sources broken down by region and/or time period.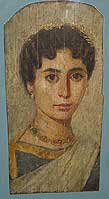 This time we have Roman names. Since my interest here is in providing name ideas for RPGs, I'm not breaking these names down by Roman time-period. I'm including a list of resources at the end of this article for those wishing more in-depth information about Roman names.
(Photo courtesy of Flickr, © Conscious Vision 2007)
Roman Name Structure
Roman names had several parts, frequently becoming long and complex:
Praenomen: A personal name. This was primarily used by family members and very close friends only. Romans had very few praenomen; typically the first child would be given the father's praenomen (adjusted to a feminine form, if the child was a girl).  The second child would receive the praenomen of someone else in the family — and uncle, perhaps.
Nomen: Indicates which gens the person belongs to. The gens is a group of loosely organized families all sharing the same nomen. A woman would use the feminine form of the nomen, formed by substituting '-a' for the '-us' ending.
Cognomen: A family name used by a group of blood relatives. It was a name unique to the individual and usually referred to something specific about him — usually a physical characteristic. Like a nickname, it wasn't given to a child as part of the name given by his parents; it could be inherited from a male relative or chosen by concensus in the general community. Cognomen were almost never complementary — usually they were neutral, or even insulting names.
Common Praenomenia
Here are some of the most commonly used prenomen:
Gaius/Gaia
Lucius/Lucia
Marcus/Marcia
Quintus/Quinta
Titus/Tita
Tiberius/Tiberia
Descimus/Descima
Aulus/Aula
Servius/Servia
Appius/Appia
Common Nomenia
Here are some of the most common nomen:
Acilius/Acilia
Aebutius/Aebutia
Albius/Albia
Antonius/Antonia
Cassius/Cassia
Claudius/Claudia
Calidius/Calidia
Didius/Didia
Fabius/Fabia
Flavius/Flavia
Galerius/Galeria
Genucius/Genucia
Laelius/Laelia
Marius/Maria
Mocius/Mocia
Naevius/Naevia
Ovidius/Ovidia
Porcius/Porcia
Rutilius/Rutilia
Sentius/Sentia
Sergius/Sergia
Tarquitius/Tarquitia
Tuccius/Tuccia
Tullius/Tullia
Vedius/Vedia
Vibius/Vibia
Vitruvius/Vitruvia
Common Cognomina
Here's a list of common cognomen and their meanings. Many female cognomia are the same as the male versions:
Aculeo/Aculeo – prickly, unfriendly
Albus/Alba – fair-skinned, white
Ambustus/Ambusta – scalding, burning
Atellus/Atella – dark (haired or skinned)
Bassus/Bassa – plump
Bibulus/Bibula – drunkard
Brocchus/Broccha – Toothy
Bucco/Bucco – fool
Caecus/Caeca – Blind
Calidus/Calida – hot-headed, rash
Calvus/Calva – bald
Caninus/Canina – dog-like
Celsus/Celsa – tall
Cicurinus/Cicurina – mild, gentle
Corvinus/Corvina – crow-like
Dives/Dives – wealthy
Dorsuo/Dorsuo – large black
Fimbria/Fimbria – fringes, edges of clothing
Flavus/Flava – blond-haired
Florus/Flora – floral, blooming
Galeo/Galeo – helmet
Gurges/Gurges – greedy, prodigal
Laterensis/Laterensis – from the hill-side
Lepidus/Lepida – charming, amusing
Licinus/Licina – spiky or bristly haired
Lurco/Lurco – glutonous, greedy
Macer/Macra – thin
Merula/Merula – blackbird
Mus/Mus – mouse
Natta/Natta – artisan
Paetus/Paeta – blinking, squinty
Plancus Planca – flat-footed
Priscus/Prisca – ancient
Pullus/Pulla – child
Quadratus/Quadrata – squat, stocky build
Regulus/Regula – prince
Rufus/Rufa – red-haired, ruddy
Rullus/Rulla – rustic, uncultivated, boorish
Scaeva/Scaeva – left-handed
Silanus/Silana – nose, water-spout
Varro/Varro – block-headed
Varus/Vara – bow-legged
Vatia/Vatia – knock-kneed
Vetus/Vetus – old
Other Articles in this Series
Resources: