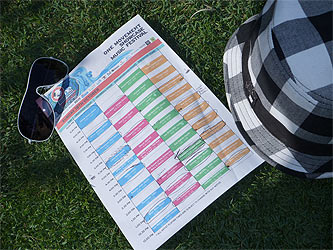 We're down to the last couple of posts in our series of turning adventure seeds into full-fledged adventures. We've asked and finally answered all of our questions and now we're down to the last three steps:
Pull out events from the questions
Put the events into a possible order
Determine the outcome of success or failure
[Photo courtesy of Michael_Spencer via Flickr Creative Commons 2.0]
Pull Out Events
In this step, briefly review the questions we've answered over the last several posts. We're looking for answers and ideas we can turn into actual events that our PCs can participate in.
When you're planning events, you want a variety of them. Certainly, you'll need to include some combat events, but you should also include events that can be solved by roleplaying and using skills. Often, PCs will find (or create!) these on their own, but it's a good idea to include some planned events of this type, just to make sure.
Go back over the information you wrote on your worksheet and the information you determined the PCs absolutely must know to accomplish the objective. Think about ways you can impart this information actively—that is, what can the PCs do to find out that information?
By this point, you should have identified the central conflict of your adventure. It should have one over-all conflict—a sort of meta-conflict that all the other conflicts are pieces of. Star or highlight this conflict, because this will be your climax, the decisive event of the whole game. Everything else that happens in this adventure should lead the characters to this final, penultimate event.
One of the best places to start looking for events is the "What obstacles might stand in the way of the PCs?" question. Take those obstacles you brainstormed and translate them into real in-game people or items and plan an event around them. You also want to take a special note of the goals of the mission. How would these goals translate into PC and NPC actions
I'll leave it to you to figure out the majority of the events. Here's one suggestion:
Princess Darya wants to meet Kyrill alone to ask him to get a private note to Roman that her father's guards won't be able to read, so she corners one of the PCs and tries talking him/her into arranging a meeting. The PCs could then use this time to try and get Darya away from the compound.
Give the compounds guards a chance to become suspicious of the PCs and suspect they're not really traveling players. They could corner one of the other actors and force him/her to talk about the PCs.
It's also likely that just by answering the questions, you'll have already begun to create encounters in your mind. Run with those ideas and flesh them out into possible events, challenges, and encounters. It's also likely that you may not need to have many planned events. Map out the location, plan the compound's defenses, then give that information to your players. It's most likely they'll come up with plans of their own that you can play off of.
When creating events, you want to make sure you have something for every player, as well as for every character. If everyone in your group enjoys combat more than anything else, make sure you have plenty of threats arrayed against the party, even if you want to present them with more roleplaying challenges. If your players are a mixed group, as is usually the case, you need to make sure there's something for everyone. Do your players enjoy roleplaying? How about skill challenges or defeating traps? There are many articles on-line about typing players, so I won't go into that here. The important thing is to pay attention to what your players enjoy and give each of them something that they enjoy best.
Other posts in this series: