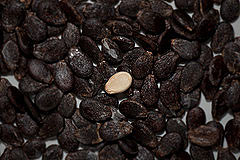 There are basic steps to creating an adventure from the adventure seed:
Read the seed
Write down questions
Answer your questions
Pull out events from the questions
Put the events into a possible order
Determine the outcome of success or failure
We'll go over these steps in detail in the next post(s), where I'll provide some examples to make things much clearer.
One note here: The adventure seed is just a tool to jump start your creativity. If, in the course of developing your adventure, you find that your plot bears no resemblance whatsoever to the seed you started with, that's okay. As long as you're happy with what you've created and you think your players will be too, go with what you've written. There are no adventure police to keep you on the straight and narrow. (At least when you're running for your own group, this is true. Published adventures can be another story).
[Photo courtesy of pj_vanf via Flickr Creative Commons 2.0]
Previous articles in this series:
Related articles