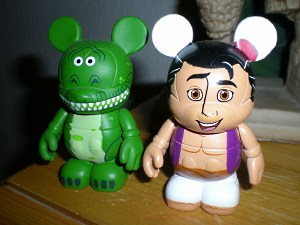 You've gotten your group and your new player both ready to play. He's sat in at least one play session and thinks this "roleplay thing" looks pretty cool and both you and your players think he'll be a good fit for your game.
So now, with all of the prelims out of the way, it's time to sit down with your brand-new  player and build his character. But what's the best way to build a character for a brand-new player? That's what this article, the third in my series on introducing new players to your game group.
Character creation for the brand-new player
There are a couple of schools of thought when it comes to creating characters for brand new players:
start with pre-generated characters
start with character creation
Starting with pre-generated characters
In this situation, you give your brand new player a pre-generated character to play until he's comfortable enough with the game to build an effective character. The advantage of this approach is that the player doesn't have to struggle through two (often very different) sets of rules and can immediately jump into play.
Character creation can be confusing and seemingly unrelated to the game itself to the brand new player. He doesn't yet know what kind of character he likes or is good at playing. That makes it hard to build a character he enjoys, because he doesn't yet know what he enjoys. In his ignorance, it's all to easy for him to create a character he hates.
The downside of this option is that none of the available characters may interest the new player
Starting with character creation
The other school of thought says to start by walking the new player through character creation, step-by-step, if need be. This way, the new player will have  (hopefully) a character he likes from day one. What I've found, though is that most brand-new players have no idea what kinds of characters are out there, making it difficult for her to come up with a character idea.
The best of both
As a middle ground , I'll ask  her what kind of character she'd like to play. Then I ask her she wants to create the character herself, or if she just wants to give me the details and let me worry about creating the numbers to match those details.
Even if she chooses to create the character herself, you'll need to walk her through the character process step-by-step.  At the very least, she'll probably appreciate some advice about the choices she needs to make, such as which weapons are most effective and which skills would be the most use to her. Remember though, you're giving suggestions, not mandates. Give her the choices, explain the pros and cons of each for her character, then let her decide for herself.
Before play–the prelude
It's helpful to sit down with your new player before his first actual play session.  At this time, run him through a one-on-one play session working out his character's background. This serves two purposes: it gives the a player a dry-run on the mechanics and it helps him learn about his character, both of them will help make play run more smoothly at the official first game session.
Talk with your group
Ask the new player to arrive 15-30 minutes later than the rest of the group. This will give you a chance to talk to your existing group. Let them know if you're suspending or modifying any rules for this session, especially table rules. Also layout how you expect them to treat the newcomer.
Remind them they were once brand-new players and ask them to be sympathetic if the newcomer makes "newbie" mistakes or doesn't seem to know how to do things. We forget that we actually had to learn many of the in-game actions we do automatically now (like looking for secret doors or testing the floor with a 10′ pole). Also make sure they know the game will likely move much slower tonight because you'll have to stop frequently to explain things.
Ask your group to be especially welcome and to keep in-jokes to a minimum (or at least explain them). Reiterate that you want the new player to feel comfortable and welcome. Warn them to be especially conscious about not interrupting him and to be patient while he figures out his character's actions. Also tell them if there's anything they shouldn't say, such as background information the new character wouldn't know.
Ask (or choose) one player to be a mentor to the newest member. Make sure she has a lot of patience, knows the mechanics and can explain them well.
During the game session
Don't let the mentor take over playing the new character–it's great for her to suggest possible actions, but the decision must reside with the new player. If you find the mentor insist the newcomer take certain actions, find a new mentor.
Don't overlook the new player when asking for character actions. A brand-new player is likely to be very quiet and hesitant to speak out of fear of doing something wrong. He could easily be overlooked in the flurry of activity, especially at the outset of combat. If your group uses a caller, ask the caller to pay special attention to the newcomer.
Be prepared to provide a list of possible actions for the player to choose from. Many brand-new player have no idea what's even possible for their character to do. But try not to make him feel "on the spot." If he's completely stumped, give him two or three possible actions and tell him you'll come back to him later, so he has time to think things over. Don't give him more than about four possibilities–two many choices can be as overwhelming as too few.
That's all for this segment. Next time, I'll cover adding an experienced player to your game.
[Image courtesy of SmartBoyDesigns via Flickr Creative Commons]
Posts in this series