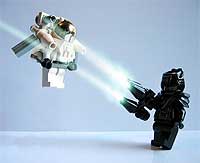 Whether as a PCs or an NPCs, evil characters tend to get the short end of the stick. All too often, they're portrayed as short-sighted, reactionary, shallow, and … well, stupid. Frequently, all evil characters look and act the same, like they are clones of one another. Which is a real shame; after all, what's more engaging to your players than defeating a worthy opponent? Here are eight tips for making your evil characters more in-depth and engaging.
(Image courtesy of: http://www.flickr.com/photos/helico/ / CC BY 2.0)
Evil is not a personality trait. It's too broad a term to be a personality trait; it's like saying that "human" is a personality trait. If you ask someone to define evil, they'll give you a laundry list of actions, beliefs, and attitudes. It's these things that can be called "evil". An evil person is someone who performs these actions, just as a good person is someone who performs actions we identify as "good".
Evil is culturally determined. While there are some broad generalities—most (if not all) cultures in our world view intentional murder as evil, for example—what actions and beliefs are classified as "evil" or "good" vary from culture to culture. A classic example is slavery: most modern cultures would classify slavery as evil, but most ancient cultures viewed slavery as a part of everyday life.
Evil characters don't necessarily view themselves as evil. Usually, evil characters believe their actions were necessary and justified. A Lawful Evil ruler would view himself as a law-giver, someone who brings order out of chaos. A Neutral Evil character could see himself as a survivor, someone who's forced to take the actions he does because of how the world treats him. A Chaotic Evil character might seem himself as a revolutionary, breaking down or circumventing unfair rules.
Evil characters have relationships with other people. Every character has relationships. Even if they're dedicated loners, they still know people and at least some people know them. Evil characters have (or had) families,  playmates, fellow church members, fellow students, bosses, underlings … all the relationships other characters have.
Evil characters have many emotions. Too many evil characters (in film, novels, and TV, as well as RPGs) seem to be little more than cardboard cutouts. Their only emotions seem to be selfishness, hatred and revenge. The best evil characters are those that have the full variety of emotions—love, hate, revenge, happiness, sorrow—the same emotions good and neutral characters have. They can even fall in love. The main difference between evil characters and other characters is that they express those feelings in very selfish ways.
Evil characters have back-stories. Evil characters don't (usually) spring full-grown out of thin air. They have histories: they were born/created somewhere, grew up somewhere, learned their skills somewhere. Generally, there are people somewhere who knew them before the present moment. And those histories and past experiences helped to shape them into the people they are now.
Evil characters have values and goals. Evil characters do the things they do for a reason. Only in parodies or broad comedies can they take actions for no other reason than "to be evil." An evil character can seek to bring order, remove a threat, increase their wealth. Generally, they won't view their goals as evil: instead they'll see them as justified or necessary. These values and goals (rather than evilness itself)  should motivate your evil characters. A big difference between evil and good characters is that an evil person will take whatever action she deems necessary, regardless of its impact on other people.
Evil characters can do good works. They can act law-abiding (usually out of fear, rather then a desire to do what's right), generous, gracious, concerned, affectionate, if that's what needs to be done to accomplish their goals.
Playing evil characters
Generally, you'll play an evil character just as you would play a good one. The main difference is that the evil character will pursue his own agenda, no matter the cost to other people. But that doesn't mean she'll do the most rash and immediate thing, nor does it mean that when faced with a moral question, she'll always take the opposite action of a good character.
Make sure your evil character has a reason for taking the actions beyond "it's the evil thing to do." That one thing alone will make your evil character stand out in a good way 😉 .
Playing evil characters can be a lot of fun. Just remember that they take as much (or more) work than a good character of similar importance to the game. Look at your character as a whole person, figure out his goals and what he's willing to do achieve them. You'll get more enjoyment out of your game and so will your players.
Related Posts
Related articles by Zemanta