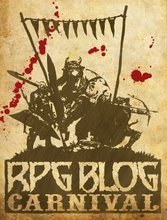 Game conventions are a great place to introduce new players to your favorite system. But running a game designed to teach a new system is a bit differently than running a game for experienced players. For one thing, you can't assume that the new player knows anything about the system you're running–even what type of die to use, if any. Also, you've somehow got to do a quick over-view of the rules without boring your players to tears and yet also manage to complete your scheduled adventure.
It's a lot to juggle. Below are some steps to help you successfully pull off a teaching game. These steps don't have to be limited to convention games; they're also useful if you're running a demo at a game shop or even trying to convince your regular group to try that new game you bought and are dying to run.
Always use pre-generated characters. I've yet to see a successful teaching game which started with the players creating their characters. I'm sure someone's done it, but it does make teaching the game much, much harder. With pre-gen characters, not only do you save valuable play time, but you can also plan your adventure around those specific characters.
Create "iconic" characters. Teaching games aren't the place for off-beat or unusual character ideas. If you use archetypal  (or even cliché) characters, players can spend less time figuring out their motives and more time learning the game itself.
Don't make your players add. The other good thing about using pre-generated characters is that you can do as much of  the math ahead of time as possible. You want to be able to tell a player to "roll a d20, then add your BAB [marked in large numbers on the character sheet] to it." As much as possible, try to keep your players from having to add more than two or three numbers together at a time.
Prepare "cheat sheets" or "quickstart" versions of the rules, if the game company doesn't provide them. I always make a one to two page summary of a game's basic rules so the players have something they can refer to while playing.
Consider creating character packets. I create an information packet for each character that contains the character sheet, any relevant character background, written descriptions of the character's powers, and a brief summary of the game's setting and background. It seems like a lot, but if you limit the background information to its most crucial elements, your players will thank you for putting what they need to know right at their fingertips.
Simplify the mechanics. Strip away anything not absolutely critical. You want new players to get a feel for the system, not bog them down with modifiers and exceptional cases.
Plan to spend the first quarter of the session explaining the game and its basic concepts. Here you want to focus on the essence of the game, not the mechanics. Sure, do a real-quick mechanics run-down (I usually go through the cheat-sheet), but spend most of this time going over the character sheet and game background and answering player questions.
Tell players to hold their questions until after your explanation. If you've done a good game introduction, you may find you've already answered the players' questions. This also helps prevent you from getting bogged down in player questions and having time to finish your introduction.
Begin with a bang. Start your adventure with the PCs in the middle of something: they're in the car on the way to the haunted house; they're trapped in a burning building; they've just been locked in a room with a group of people, one of whom is murderer. Unless you're running Tales from the Floating Vagabond, try to avoid the "You're sitting in a bar…" opening.
Do the  math for them. Try to handle as much of the mechanics yourself as possible. You want to give players a feel for the game, not bog them down with situational modifiers. Let the players roll dice, but add the modifiers yourself and describe the results to the player in words, not numbers. Sometimes you need to give the player numbers, but try to serve them with some descriptions as well: "You're knocked back against the wall as your opponent's blade rips through your shirt, drawing blood and pinning your sleeve to the wall. Take 8 points of damage."
Be flexible. Keep an eye on the clock. If your game is running over time, try to bring it to a conclusion, even if it's not the one you'd originally planned. You may need to improvise scenes or cut some out. Allow the players to ask questions about the game, but try to keep them focused to the adventure at hand.
Get feedback. If you've got time after you finish the adventure, ask for player feedback. What did they need the most help with? What game concepts need to be made clearer? Is there anything that should've been covered in the introduction that wasn't. That type of thing. Really listen to what the players say and, if need be, modify your introduction and information packets accordingly.
This steps should help you teach new game systems to players successfully, particularly when you have a short amount of time to do it in, such as at a game convention. Please feel free to leave comments letting me know if I've left anything out or need to improve something.