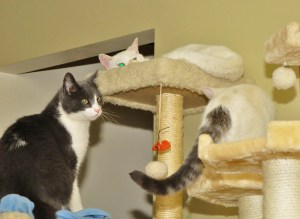 This is the 4th post of my series on introducing new players to your game.
Most of the time, when you bring an new player into your game, you'll be adding someone who's already an experienced player. But whether she's been playing RPGs for 10 months or 10 years, remember that she's still a new player to your game and much of the advice given in my post on introducing a brand-new player to your game still applies.
Setting Limits
In Introducing a New Player to an Established Group, I talked about knowing your limits. This is doubly important when you're considering adding an experienced new player. Most GMs will realize that a brand-new-to-RPG player will take extra time and make them more likely to think twice before adding new players.
But it's very easy to over-estimate how many players you can handle when adding an experienced new player. It's extremely flattering to have someone wanting to join your game. However, while you can run pretty well with fewer than your optimal number of players, running with more than that is usually a recipe for disaster.
Figure out the maximum number of players you can comfortably handle and don't exceed it. If you find you've got more people interested in playing then you have seats for, count yourself blessed. In this situation, you basically have two choices:
start a second campaign (if you have the time and inspiration to add another game to your schedule);
keep a waiting list of players who can join when one of your existing players has to leave.
Never allow yourself to be pressured into adding a player if you're not ready to. No matter how much your current player wants to add his new girlfriend or how much that new player you met at the last convention begs, keep to your limit. If you don't, you'll probably find that running your game becomes a chore instead of pleasure. Remember: if you're not having fun, no one else will.
Adding the New Player
Get to know him
Before asking that new player to join, spend some time getting to know him. Meet outside of a game session and just talk. Ask him about his previous game experience, what he's liked or disliked about previous games he's played. Do this before you tell him anything about your game.
Ask about his favorite character and why it's his favorite. How he describes his character can tell you a lot about his preferred play style. If you've got an entire group of Character Actors, and your prospective player starts telling you about his character's stats and all the cool bonuses he's gained and how much damage he can do in combat, he's probably not the best fit for your game.
If this sounds like a job interview, it is, in a way. And like at a job interview, the player is likely to be on his best behavior. He'll be eager to make a good impression and will probably tell you that your group's play style is his absolute favorite thing. That's why I recommend asking him about his interests before you tell him anything about your game.
The most important thing here is to listen to your intuition. Does this player seem a good fit for your group? Are you completely comfortable around him? It's okay to feel a few jitters about having to talk to someone completely new, but if he makes you feel unsafe or even just uncomfortable–even if you can't say why–thank him for his time and tell him you don't think he's a good fit for your game.
Tactful honesty is definitely the best policy here. You don't want to disappoint him; because of that, many GMs will admit a new player, even if they're not comfortable with him, rather than hurt his feelings. But no matter how hard it is to turn a player down, it's still much easier to turn the player away at this point than it is to kick him out later when he turns out to be a problem player.
Meeting the group
However, you're not the only one who needs to be comfortable with new player. The rest of your group needs to be comfortable with him, too. If, after talking to him, you think he'd be a good fit for your group, ask him to sit in on a couple of game sessions. This will give him a chance to see if he thinks he'll enjoy your game and give the rest of your group a chance to meet him.
After he's done his "sitting in" time, ask each of your players individually what they think of him. If any of your players feel uncomfortable around him, try to find out why. If it's because she "doesn't like his energy," pay attention to that; it's probably her intuition picking up on something wrong. In this case, he's probably not good for your game.
If, however, it's because he looks a lot like her ex-boyfriend, but she knows she'll be able to get beyond that after she gets to know him better, go ahead and add him. Players with minor concerns can usually tell you exactly what they don't like about a player. Usually the group can work through these issues. But you never want to sacrifice a good existing player for an unknown new player.
—————-
Next time, I'll talk about ways to actually add the new player to the game and Beg, Borrow & Steal (my newsletter) this month will cover six ways to add a new PC to your game. It's a free monthly (roughly) newsletter of GM tips. You can sign up for that in the sidebar of any of this blog's pages.
[Photo courtesy of jeffreyw via Flickr Creative Commons]
Other posts in this series
Related articles