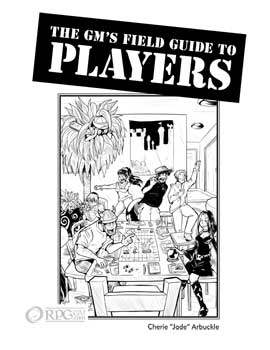 At long last, my second book, The GM's Field Guide to Players is finished and will be available for sale within the next two weeks.
The book features cover art by artist NJ Huff (check out her website, she's got some great stuff). I'm absolutely thrilled with the image she created and will be asking her to redo the cover of The Adventure Creation Handbook when I get around to updating it in the next month or so.
It's sixty a 60-page PDF and covers
Player types in detail (I've devoted a whole chapter to this) along with suggestions on how to use them to make your game more enjoyable.
How to identify problem players and general tips for dealing with them, including suggestions on how to remove a player from your game and still retain your self-respect (and the respect of the other players in your group).
Specific types of problem players you're likely to encounter in your GMing career and how to deal with each one.
As always, I'm including two freebies when you purchase this book. They are
How to Deal With Cheating Players: Just what the title says, this booklet describes several ways players cheat and offers ideas on how to deal with them.
Fitting Them In: Ideas on how to introduce new players to your game. It covers everything from introducing brand-new players to RPGs in general to bringing experienced players into your on-going campaign.
The GM's Field Guide to Players will be available starting Sunday, September 23, 2012 and will sell for $7. It will be available from my website and from Drive-Thru RPG and RPGNow. At the same time, I'll be selling my previous book, The Adventure Creation Handbook for $3.50 — half off its normal price. That half-off deal will only be available from my own website.
Related articles