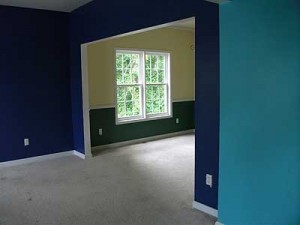 As you've all noticed by now, my writing has been rather sporadic recently. It's not because I've run out of ideas or developed a sudden allergy to blogging. No, the reason I've been rather absent is because my fiance Jay and I just bought a house and (being a foreclosure), it's taking a lot of work to make it livable. Since I work from home, this will also be the new office of rpgGM.com.
We're currently in the middle of ripping out all of the carpet and priming the entire house for repainting. Luckily, most of the work that needs to be done is cosmetic and we saved enough on the purchase price of the house itself that we'll be able to hire someone to install the bamboo floors we've picked out. But meanwhile, there's a lot of "sweat equity" to be put into it.
I've got a couple of "before" pictures — photos of the place before we began work. You can see one of them above; I'll be posting more on my martial arts blog On My Own Two Feet.