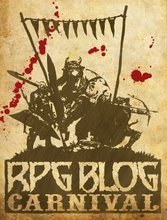 I hate gaming dry spells. I think the longest period I've gone without gaming was two years, if you're talking about actually sitting at the table, either as GM or player. If you're counting game preparation and research, it's more like, well, 6 months.
How to do I manage? Gaming is a priority for me: right after the important personal relationships in my life and equal to martial arts.  Which puts it way ahead of just about everything else, since rpgGM.com is my job as well as my love. It also helps that just about everyone in my immediate family are also gamers. I've been very, very blessed, especially with a fiancé who's actively encouraging  me to (and supporting me while) I get my own game publishing company off the ground.
But this is about how to survive the drought. Like everyone else, I've had times when I couldn't get a group together or couldn't find one I wanted to play in. Here's what I do when I'm game deprived:
Worldbuilding. Number one top slot. I love worldbuilding, which is why rpgGM.com's first series of products is the game world, Guang Keshar. But it's not just building worlds from scratch. I also consider rewriting the background of existing game worlds as worldbuilding.
Reading game systems. I try get my hands on and read as many game books as I can. This helps me keep the creative juices flowing, which leads to…
Campaign creation. I'll spend a lot of time fleshing out the bare structure of a campaign for a game I'm itching to run. That's a bit trickier, since I have a very hands-off GMing style and tend to build my games around my PCs. But I can do a fair amount of preparation work so that I'm ready for character creation when it does happen. I often have three or four campaigns I'm working on (but not currently running) simultaneously.
Reading about GMing. I'm always looking for ways to improve my GMing. I like reading game-related blogs, though right now I don't have time to keep pace with more than a handful of my favorites. I also love reading books like Robin's Laws of Good Gamemastering.
Playing RPG computer games. For me, this is something of a last resort. I generally dislike the rigidity of computer RPGs (though they are getting better). I prefer gaming with real people who're in the same room as me.
Running "Play by Email" (PBEM) campaigns. This is actually one of my old stand-by's when I can't get a group together locally and the number one of the reasons my dry spells are so short.  They're still not the same, but I find them a better substitute for a tabletop game than computer games. With the advent of MMOs, I know many people who prefer the other way around, though. To each their own 😉 .
Writing about games (non-worldbuilding). Most of the game stuff I've written has happened when I was between game groups.
Painting miniatures and creating game-related art.
What can I say? I'm a game junkie. Gaming is one of the things my family does together and that's something I'm very grateful for.
[This post is a part of RPG Bloggers' May blog carnival].
Articles Zemanta thinks may be related