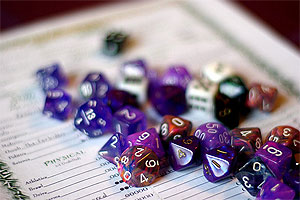 Awhile back I did a post on 21 Surefire Ways to Loose Players. With this being Player Month here at Evil Machinations, I thought it time to do a post for the players. Even the most die-hard GMs will change sides of the table, even if it's a pick-up game at a con. You'd think we'd make the perfect players, right? Wrong. Unfortunately, all too often GMs-turned-PCs are the most difficult players in a group. While orginially aimed at GMs, even players who've never sat behind the GM screen should enjoy this list as well.
[Photo courtesy of
House of Sims via Flickr Creative Commons 2.0 license]
Repeatedly arrive extremely late to a game session without calling to let people know.
Repeatedly miss a game session after assuring the GM you'd be there.
Refuse to read the rules of the system you're playing.
Hog the spotlight.
Give long lectures on how the game you run is better than this one.
Tell the GM what he's doing wrong and offer frequent unsolicited advice on how to run the way you would.
Recite a Monty Python or Princess Bride quote for everything that happens during the game.
Insist on roleplaying every moment of a supply run.
Turn everything said into a sexual innuendo.
Make overt sexual advances to every eligable PC in the party.
Make overt sexual advances to every eligable player in the group.
Argue for every advantage you can squeeze out of the system, even if it takes an hour to win a +1 bonus.
Insist that the GM look up an obscure rule in the middle of combat.
Expect everything to go your way because the GM is your significant other.
Loudly and frequently complain about how your favorite rules system is better than the one the GM is currently using.
Insist that the group run your favorite system, especially if they don't want to change.
Constantly brag about your über-character in another game and how she would wipe the floor in this game.
Refuse to get dice of your own and insist on borrowing someone else's.
Continuously forget your character sheet so you can make up numbers on the fly.
Play while drunk (or high)–unless your entire group enjoys drinking to excess while gaming.
Deliberately and/or constantly ignore the rules of the host who's house you're playing in (such as putting your feet on the coffee table, not using a coaster, etc.)
Torment your host's pet(s).
Play computer games while you're roleplaying
Repeatedly charm members of your own party.
Repeatedly steal from members of your own party.
Insist on going off on your own on a regular basis.
Claim every useful bit of treasure as your own.
How about you? What have I forgotten that really raises your hackles? Please share!
Related Posts
Article Zemanta thinks are related