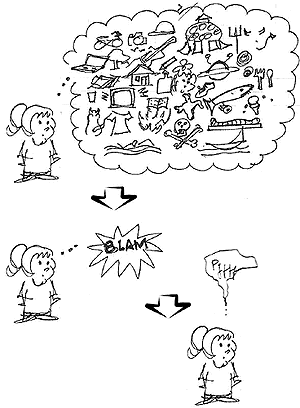 Sometimes a good background is hard to find. Usually I have no trouble coming up with a full-fledged past for my characters, complete with NPCs, subtle plot hooks, and flaws ready-made for the GM to exploit. Usually, I hand the GM a six-page character questionnaire loaded with personality quirks and background events.
Usually.
A few months back, my fiance (I'll call him "Jay") started a 3.5 D&D game and I sat down to make a new character. I'm currently playing a bard/sorcerer in another D&D game and wanted to try something different. I thought playing a "blaster caster" would be a lot of fun, so I built my character as a half-even sorcerer/rogue. I pulled out my well-used list of character questions and sat down to fill it out.
Nothing.
I couldn't think of anything really interesting to build this character around. All of my ideas seemed trite and over-used. Six months of play later, and I still didn't have any background to this character.
Now, I know I can play the character without any background material. But I've always been a "method actor" type roleplayer and I find it really hard to get enthused about a character that's just stats and abilities. That's when I remembered Cyberpunk 2.0.2.0 and its lifepath tables. If I couldn't think up a background for my character, I could roll one up!
[Image courtesy of http://www.flickr.com/photos/draconianrain/ / CC BY 2.0]
The LifePath
Cyberpunk 2.0.2.0's life path is a very thorough. It involves rolling on several charts to determine what the character's personality is like as well as what's happened to him in his background. I've simplified the process greatly and changed the options to fit a fantasy game setting.
First, determine how many life events you want to roll for. As a limitation, I decided I could stop rolling for events when I wanted to, but that I couldn't remove any results already obtained. I developed two tables: one for bad events and one for good. To determine which table to roll on for each event, I rolled a d6. If it came up even, then I rolled for a good event. If the result was odd, I rolled for a bad event. Of course, you can also pick some thing rather than rolling for it at random.
Bad Events
Money loss. You've incurred a major debt. Bill collectors track you wherever you go and, depending on the size of your debt, your lender may have hired someone who will take drastic measures to recover the money.
Hostage or Imprisonment. You're being held captive–either in prison or perhaps as a hostage–Roll 1d10 to find out how many months you're imprisoned.
Illness or Poisoning. You've contracted a serious illness or were poisoned. Roll 1d10 to determine how many months you need to recuperate.
Betrayal. You've been betrayed by someone you trusted. Roll 1d10 on the table below:
1-3 Your betrayer is blackmailing you
4-6 A dirty secret from your past has been exposed
8-10 You lost a friend, lover, ally, or job because your betrayer spread rumors about you (your choice whether or not they're true.
Accident. You were in a terrible accident. Roll 1d10 on the table below:
1-2 You were disfigured or lost a body part
3-6 You were under medical care for 1d10 months
7-8 You lost 1d10 months of memory due to trauma
9-10 You have frequent and terrible nightmares where you relive the event over and over
Death. Someone close to you was killed. Roll 1d10 on the table below.
1-5 The death was accidental
6-8 Your loved one was murdered by an unknown assailant
9-10 Your loved one was murdered by someone you know
False Accusation. You were framed for something you didn't do. Roll 1d10 on the table below to find out what you were accused of:
1-3 Theft
4-5 Cowardice
6-8 Murder
9 Rape or "taking advantage" of someone (like seducing the farmer's daughter and getting her pregnant)
10 Treason
On the Run. You're being hunted by someone in a position of authority. Maybe you committed a crime, maybe you were framed for a crime, or maybe you don't even know why you're being hunted. Roll 1d10 on the table below to find out who's hunting you.
1-3 Local constabulary or town watch
4-6 The king's forces
7-8 Private guards
9-10 Bounty hunters
Hunted. You're on the run from some organization who wants you bad for some reason. They may not want to kill you, but they certainly don't have your best interests at heart. Roll 1d10 on the table below to determine who's hunting you.
1 The local assassins' guild
2-3 The local thieves' guild
4-6 A merchant's guild or craft guild
7-8 A slaver's guild or gang
9-10 A powerful local clan
Mental incapacitation. You're sufforing from something that's causing you to not be fully in control of yourself and your behavior. Roll 1d10 on the table below to determine what the problem is.
1-3 Mind control or possession. You've been possessed or mentally controlled by a powerful entity.
4-7 Mental breakdown. Some kind of trauma has left you with severe anxiety attacks and maybe even a phobia.
8-10 Severe mental illness. Your choice.
That's enough for one day. I'll post the good events next week.
Related articles by Zemanta