Be nice to the people who have your back.
When you leave home, always make sure you've got a bedding, food, water, a knife, and a light source, even if you're just going to be gone "a few hours". You never know when a freak storm may hit.
Babysitting missions are always more trouble than their pay is worth.
Romance blossoms between the unlikeliest people.
Bring your own rations — what your teammate eats may not be food to you.
Anyone who says "This is a simple job" is lying and looking for a cut-rate deal.
It's hard to adventure when you're carrying a baby.
Even when you're sure the mama is dead and gone, leave the baby where it is.
A rope, a dagger, and a 50′ pole can overcome most obstacles.
If you think you're being watched, you probably are.
On long trips, it really is nice to have someone who can sing.
Never trust someone else's map.
Bring comfortable shoes — at some point, you're going to need to hoof it.
Never pack more than you can carry.
Saying "Can't we all just get along?" is the quickest way to being dead.
Never insult your employer. Especially about their name.
You don't have to like the people you work with…but it sure helps.
Never leave horses, princesses, children or familiars by themselves.
Never assume someone can't understand your language. Especially if you're insulting them.
NEVER touch the "wam-wam".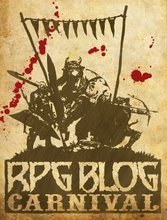 This article is part of the RPG Blog Carnival. I'd actually started this post before I discovered the Carnival, so I had to participlate. Each week I'm going to tackle a different questions from this month's topic.
More seriously, I think I've learned most of my social skills from gaming. Since I started gaming in 1980, I've gone from being the classic "foot-in-your-mouth-inadvertantly-insult-everyone-you-talk-to gamer geek" (yes, girls can be gamer geeks too!) to being the "bard" of the party, in real life as well in game. You know, the person who does all the negotiations 'cause they get the best results and the best deals? Gaming gave me a reason to learn to get along with other people, especially people I may not like.
I can't imagine what my life would be like now without D&D. I wouldn't have met any of my closest friends, the people who've always "had my back" and who've stayed with me through thick and thin. Heck, without gaming, I wouldn't have my son — his father and I met during a game session. I've learned how to plan projects, innovate solutions from tools found at hand, and carry things through to completion, even when they originally seemed "too hard".
Without D&D I wouldn't be the person I am.